"there is always something new to be learned" 
a new school year is right around the corner and as my two oldest children, my husband, students and families all around the world prepare to go back to school, my thoughts have been focused (and i've felt lots of inspiration) to make this months theme all about learning.
introducing our theme for august:
LEARN
i have always loved to learn (i like the learning… not the testing to be clear) and i am constantly finding myself with plenty of opportunities to learn more everyday. in more recent years, i have found myself with a desire to be learning things, both spiritually and secularly, and as life would have it, experiences have taught me more than i could have ever learned in school.
we have been counciled that "education is not merely a good idea, it's a commandment"
education – is the process of facilitating learning, or acquiring knowledge, skills, values, beliefs, and habits.
commandment – is a divine directive for righteous living; it bring happiness, spiritual and temporal blessings; and is part of god's way to redeem his children and endow them with eternal life.
we've been taught that learning and getting an education is essential to our happiness and eternal life.
probably one of my favorite commandments if you ask me.
you likely know that you do not just learn from going to school. in fact, most of our learning and education comes from life experience and our own personal seeking for truth and understanding.
isn't it amazing all of the ways we can learn?
from formal education to homeschooling.
from incidental spiritual experiences to regular sunday school attendance.
from the unexpected life trial to the well thought out 10 year plan.
from reading a book to browsing the web.
from observing others long sufferings to our own trial and error.
today we are almost ambushed with countless rescources to learn anything we want (and sometimes don't want) to learn.
how then, can we fine tune and make our learning more purposeful, intentional and to help us have more joy?
i have found 3 effective tools to help you be more mindful about your learning. by using these tools, we can be sure the information we are receiving is helping us to learn, grow and have more joy.
the first thing we must do as we continue to learn, is filter. whether it be by going to school, following popular blogs and influencers, watching the nightly news, browsing the internet or having conversations with neighbors.
we must learn to filter the information we are receiving. in most cases of learning, we are often influenced or 'taught' through other peoples opinions. school teachers (yes, sometimes also church teachers), influencers, news reporters and people hiding behind computer screens, often have strong, loud and wild opinions of every topic under the sun. might you be wise enough to filter out learning from sources that are harsh, overbearing, intimidating and boisterous. may you learn to seek knowledge from sources you know, trust, respect and feel good about. and yes, this applies to those hard life moments as well. remember, there is great purpose in our struggles in life and how we handle those experiences, the way we react or respond, matters a great deal to how we come out on the other side. filter what others think you should learn from those moments and move forward with a desire to understand for yourself.
second. when learning, pay attention to how things make you feel. often, when a source of learning is cruel, untrue or agenda-sized (i think i just made up a new word) they leave you with a feeling of fear, confusion or anger. often times "educating people" is used to scare, intimidate and try and prove wrong a person who may learn, know or believe differently.
i am not suggesting that all feelings of fear, confusion and anger are wrong, and for that purpose i mentioned to first filter, then feel. it's taken me years to be able to first filter my learning and then process how the information makes me feel. there are so many issues today that we all need to educate ourselves a little more on and a lot of these issues, especially for people of faith, can often come with the feelings i mentioned above. confusion over a movement that goes against what you've been taught and even anger for public and trending matters that you feel connected to in some way. if you have properly filtered the sources you used to educate yourself on these topics, you'll be able to recognize that good feelings of love, support, growth, community, patience and understanding will outweigh the initial more harsher emotions and allow you move forward with an open mind, more christ-like attitude and desire to learn more.
of course there is always prayer. i don't know about you, but when my heart, mind and soul have been shaken by some experience in learning, the death of my brother for example, or watching the news about children being taken away from their parents, one of the first things i do is pray for the spirit to help me feel calm. i can't truly learn or educate myself if i'm angry, confused or fearful. it is only by the power of the spirit that i am able to feel calm, channel my initial emotions of frustration and excitement, turn them into learning moments and then take action with the feelings and knowledge that remains.
finally, in order to ensure your education and learning is as purposeful and joyful as possible, you must follow-through.
president boyd k. packer said "the world is a classroom."
president henry b. eyeing has said "our education is not just for our mortal lives, but for our eternal lives as well."
once you've filtered and felt your way through the things you're learning you must use that knowledge and follow-through by putting into action the things you've learned.
what we do with the things we learn matters a great deal to the life we have not only on earth, but in the eternities. with the things you learn, choose to flourish. share your knowledge with those around you. be the hand to hold for others during their learning journey. stand up for something you believe in. build a car or fly an airplane. write a book or become the worlds greatest chef. be a light to others and change the world.
when we use the knowledge we've obtained, we're keeping a commandment, and keeping the commandments is your best bet for true joy in this life.
---
choosing to make the theme for august all about learning was an easy one. from a personal connection having school aged children, being bombarded with isles after isles of school supplies at the department store, and hearing every commercial repeat the phrase "it's back to school time again", it's an obvious time for us all to be focused on what we can do to keep learning everyday.
our education must never stop.
brigham young said "no matter what your circumstances are, whether you are in prosperity or in adversity, you can learn from every person, transaction, and circumstance around you.
though this life is filled with struggles, uncertainties, hardships and injustices, no trial we experience is waisted. these things minister to our learning and developing qualities such as faith, patience, humility and a greater love for all of gods children in our individual journeys to become like our heavenly parents.
i know that as each of us strives to be more mindful and intentional about seeking opportunities to learn, recognizing experiences we are to learn from and using the things we learn to be a light in this world and build up the kingdom of god, we will know joy like we're inherently meant to know.
"whatever you have learned or received … put it into practice. And the God of peace will be with you" – philippians 4:9
---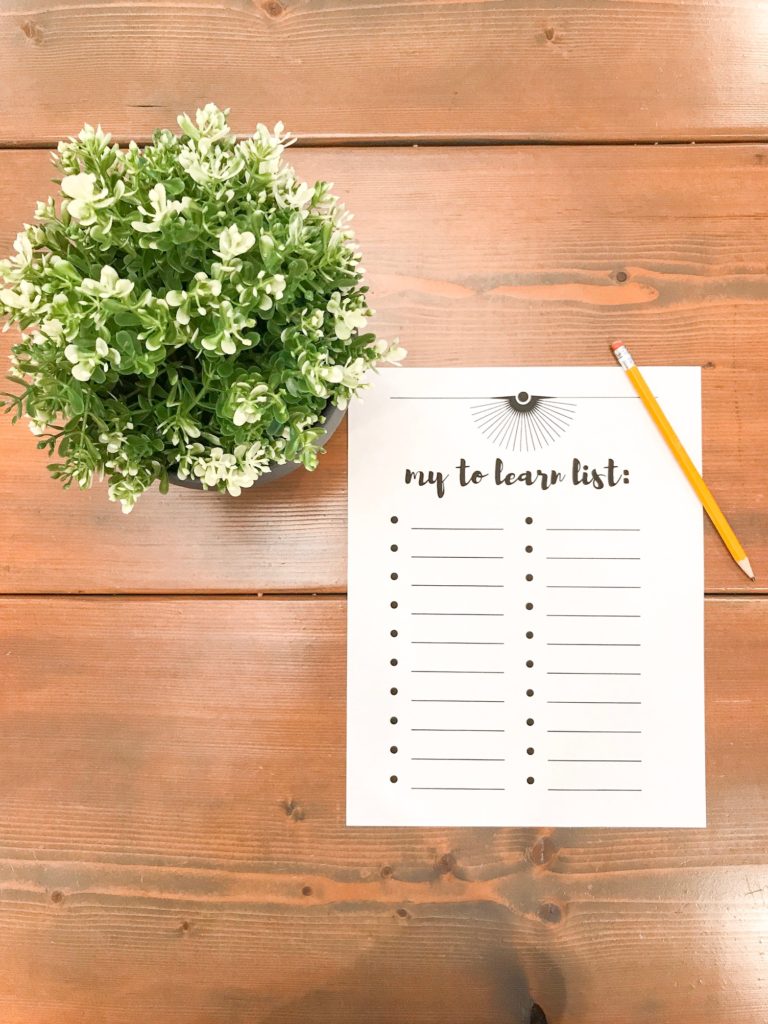 this week your joyful practice challenge is to make a list of all of the things you want to learn. get out a pen and paper (or print out THIS fun little printable i've created for you) and go to town listing every thing you can think of you want to learn. (don't be afraid to flip the page over and keep going)
it can be something big, like learning how the neuro-sensors in our brain works, to something small like learning the perfect method to making your pasta al dente. it can be seemingly realistic like learning how to ride a motorcycle, to something completely farfetched like learning to build a rocket ship with only recycled materials. it can be more of the things of this world like learning how to build a house, to something deeper and more spiritual like learning how to be more christ-like and have more love those not of your faith.
get to making your list so you can start having a little more intention and direction to things you can learn this week.