president thomas s. monson, in an october 1991 general conference said, "perhaps the most significant of all classrooms is the classroom of the home".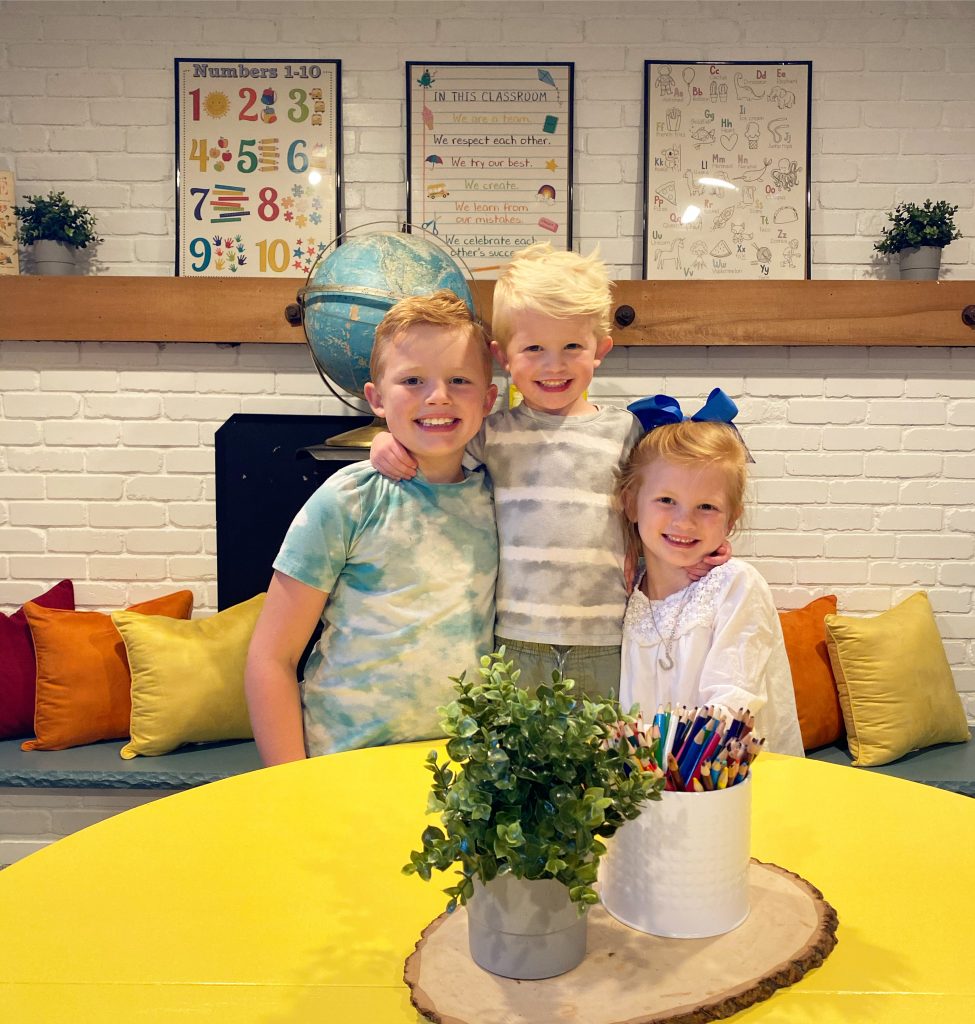 part of your purpose on earth is to create meaningful relationships that help you feel joy in your life. when you have a home filled with Christlike love and service, your relationships within the walls of that home are strengthened and you can experience, what president monson taught, "a bit of heaven on earth".
finding ways to cultivate my role as a mother and nurturing my relationships with my children through connection and communication, has been the greatest source for feeling joy within my life in recent years. this year especially i have been overwhelmed with the extra opportunities and time i have been given to focus on those connections as the children have been at home instead of in school. during the craziness of a world pandemic and social injustices, i have been blessed to see how a decade long desire has manifest itself in an unexpected yet fluid way.
since before becoming a mother, i have felt a pull, no… a call, to homeschool my children. for years i have pushed aside that voice on a count of my own insecurities and selfishness, fears, and justifications.
"i'm not qualified to teach them"
"i'm not patient enough"
"i like getting a break from my kids"
"our schools are still safe in utah"
"i went to a public school and i turned out ok"
"they need to be around their friends"
any of those phrases or thoughts ever crossed your mind?
in 2018, when the church announced a home-centered, church-supported program, i felt another nudge that a home-centered learning path was the direction our family needed to follow.
in 2019, after hearing the spirit again speak to me, and then acting on the prompting to return to school myself, i experienced the importance of having Christ at the center of my studies and learning and recognized how it allows for heavens influence and power to bless my home and family.
this past spring, after being forced into what has been dubbed as "corona-school", we were able to re-evaluate what school, learning, and getting an education looks like for our family. during the months of distant learning, we were blessed in ways of time, connection, strength, health, love, and spiritual growth as our home transformed into a classroom of heavenly directed learning.
upon reflecting on these experiences and promptings as we prepared to make a decision for the upcoming school year, i couldn't help but recognize how the Lord has repeatedly been preparing and directing our family to have a home-centered education. it has been in the tender moments of prayer and pleading with my father in heaven that an answer has been manifest to help us feel more joy in our education journey.
a home-centered learning program was the solution for our family. our children will not be returning to school this fall and there is so much excitement buzzing about our home as we anxiously prepare for a year of home study.
with spirits high, we spent a few days this past weekend creating a space in our home where the children could do their school work. everyone participated in choosing colors, painting, and organizing this room into a bright, colorful,  and happy learning environment.
we up-cycled a $20 table from ksl with some fun yellow paint. (paint color BEHR: SQUASH BLOSSOM)
we recycled chairs from our upstairs dinning table.
we painted the brick fireplace wall. we used leftover paint from our home reno, but ran out so we had to buy another gallon. (paint color BEHR: PURE WHITE)
we purchased a bright and colorful rug that was really the inspiration behind the colors. along with the rug we picked up the fireplace pillows so the kids could sit and read during class time. (Rug/Pillows from At Home)
we bought a few organizing bins to store papers, crafts, and learning supplies. (Organizers from Ikea & Target)
we pulled out old tons of school posters and supplies that we've collected over the years including some antique globes and educational books.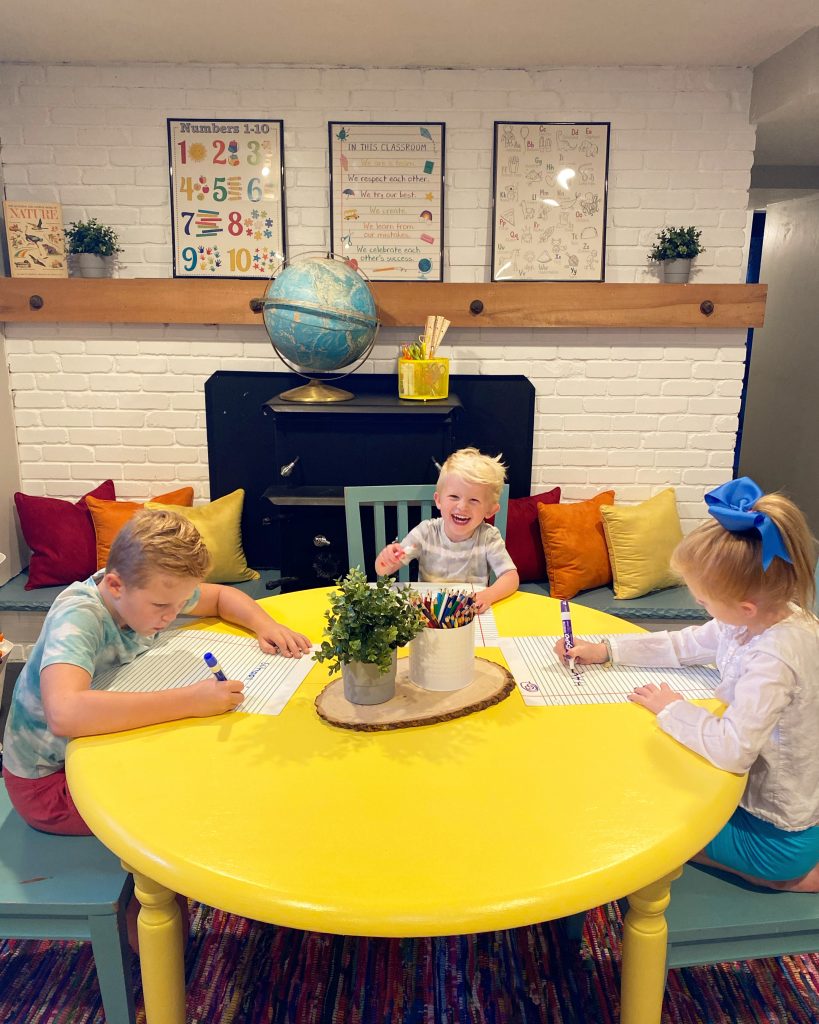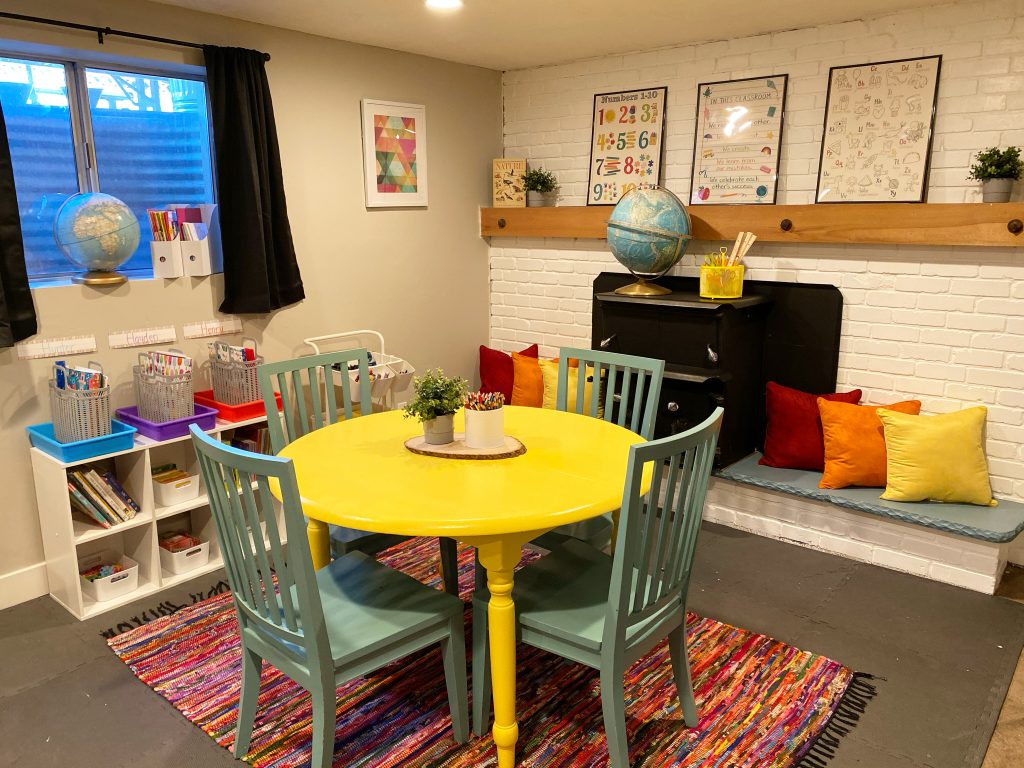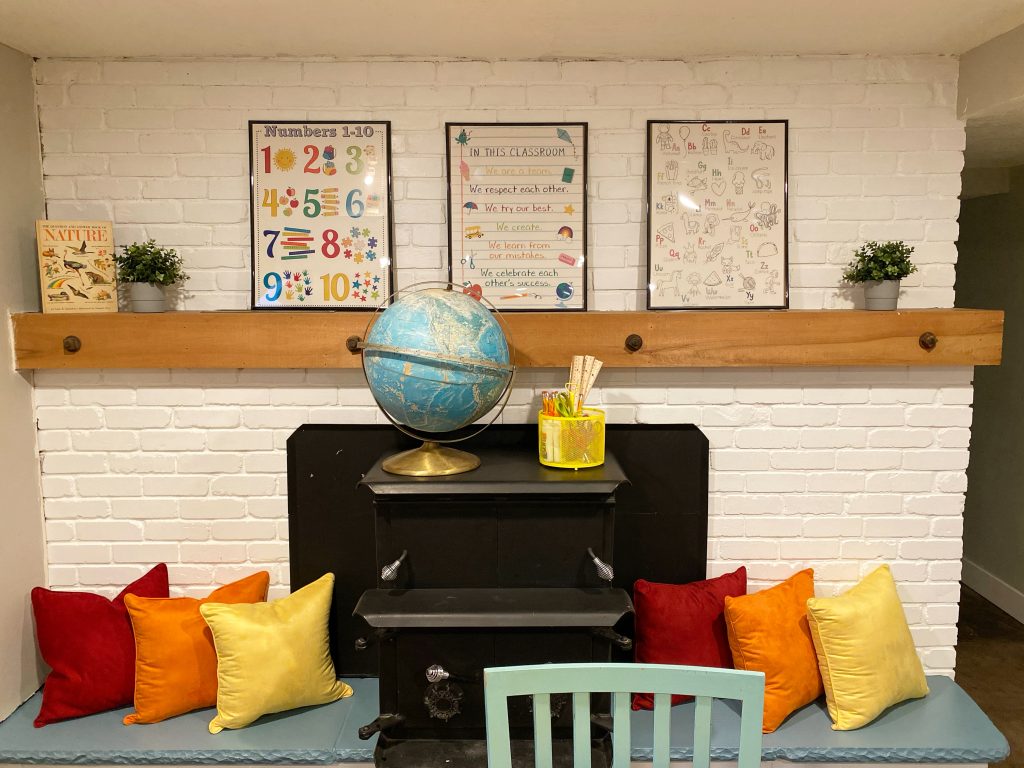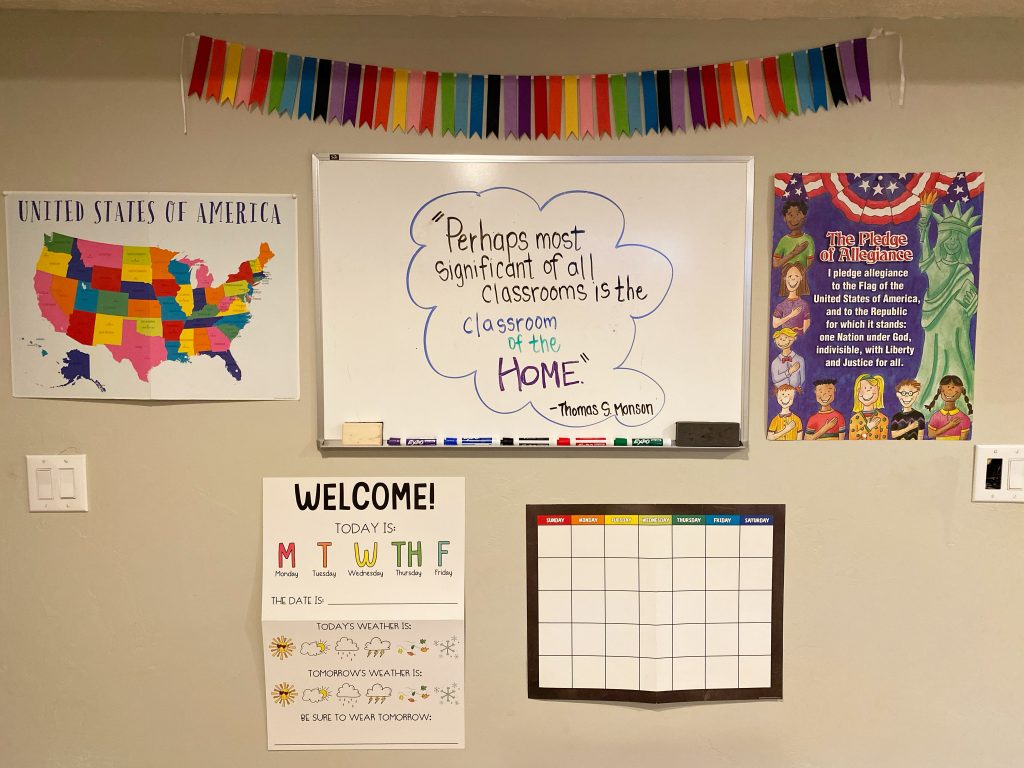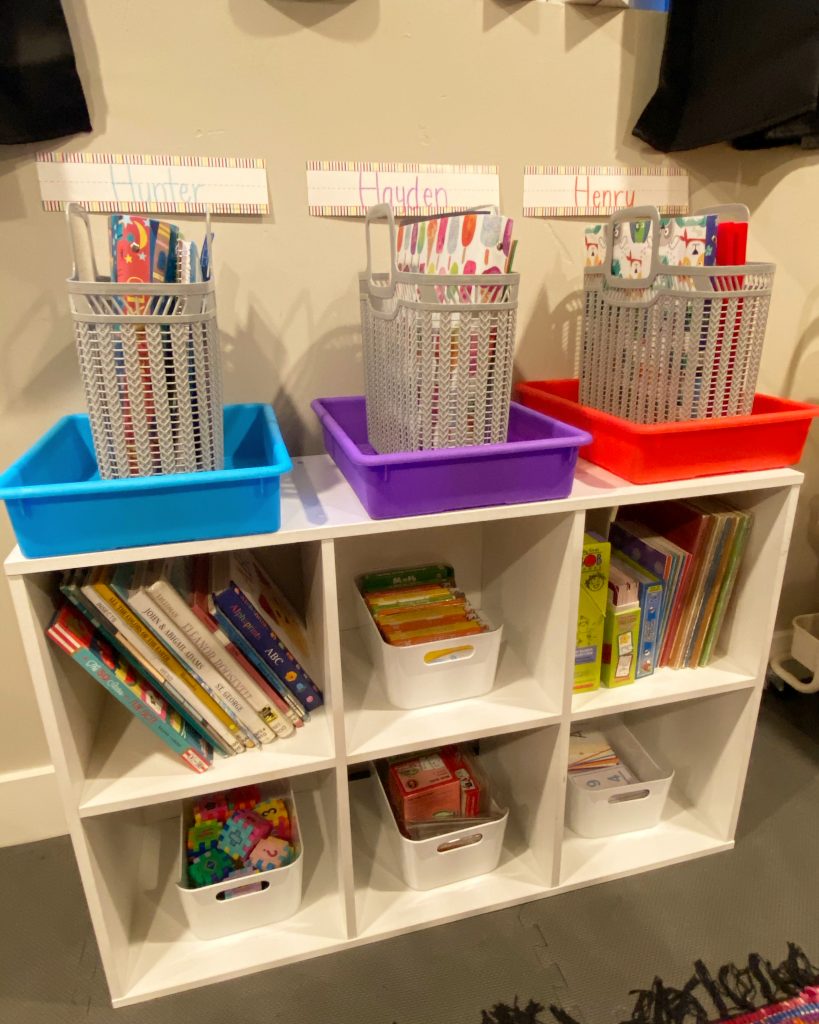 we are all so excited about this new part of our journey. we know there will be challenges and adjustments (namely mom waking up before 9 am) but we also know that this is where the Lord would have us be. we know that as we continue to listen to the direction given to us by the Lord, our home will continue to transform into a sanctuary of knowledge, light, truth, and joy.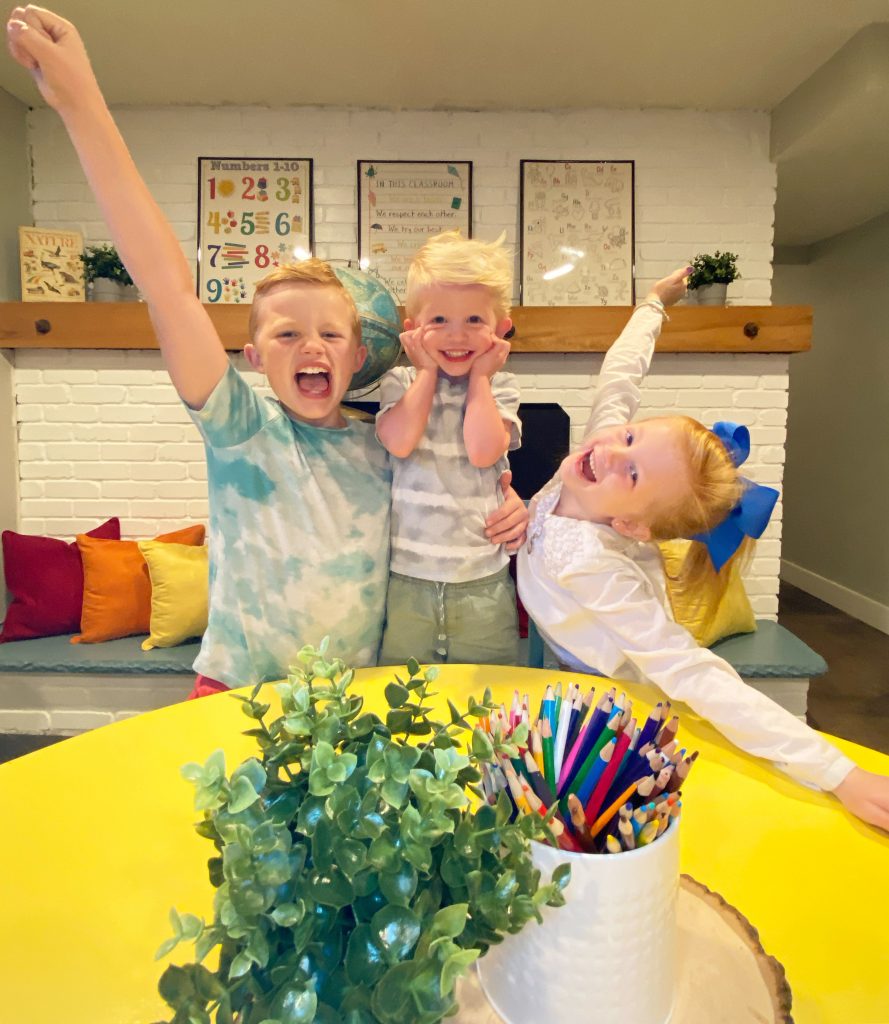 i know that it is a privilege to get to choose to be home with my children. i know that everyone's circumstances are different and i pray that whatever situation you may be in, you are able to find peace, support, and joy. i hope you recognize that only you can know the needs of your individual children and family members. i pray you can be confident in your choices to do what is best for your family and know that as you continue to put Christ at the center of your home, he will bless the learning of your children in whatever classroom they may be in.
what does your schooling look like this year?