during my most recent trip to texas, i was fortunate enough to be spoiled by my loved ones with a day to magnolia market in waco.
kevin has known for a few years now that waco, texas was at the top of my bucket list. together with my aunt patty and cousin jessica, kevin and the girls pulled off a dream day trip to get me to the fixer upper city in texas.
we made the two-hour drive from austin to waco and dove right into the magnolia experience.
our first stop in waco was to magnolia market + silos.
chip & joanna gaines, tv hosts of the popular hgtv show fixer upper, are known for their love of their little city of waco, texas. after years of fixing up homes and bringing life back to their hometown, chip and jo purchased the silos as their new magnolia market location.
behind the rust and the chipping paint, the silos have a long history in waco. dating back to the 1920's, the property on the corner of webster and 8th street, tells the story of waco in its prime as a city known as the "king of cotton."
as the gaines continue to bring new life and inspiration to their community, the transformation and continuation of the silo's history, is ever-present throughout the entire property with their store front, food trucks, open lawn and games concept as well as their bakery.
as soon as i set foot at the magnolia silos, i was transported to a place that i had always imagined. joanna's mindful, present and simple aesthetic shines through at the silos.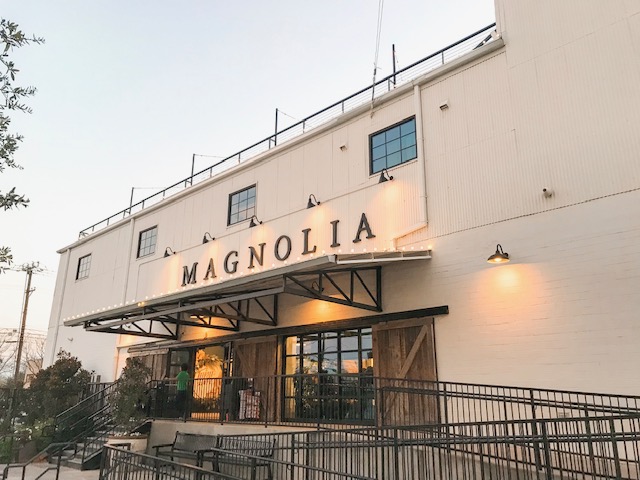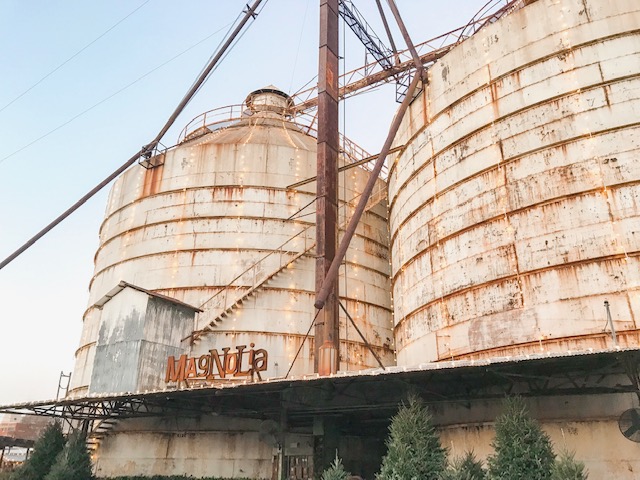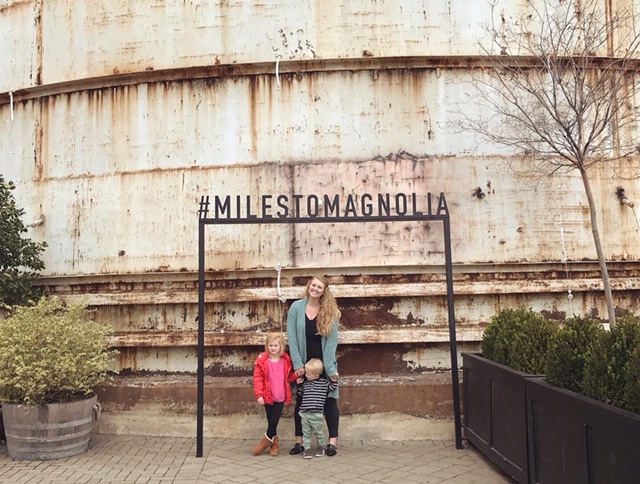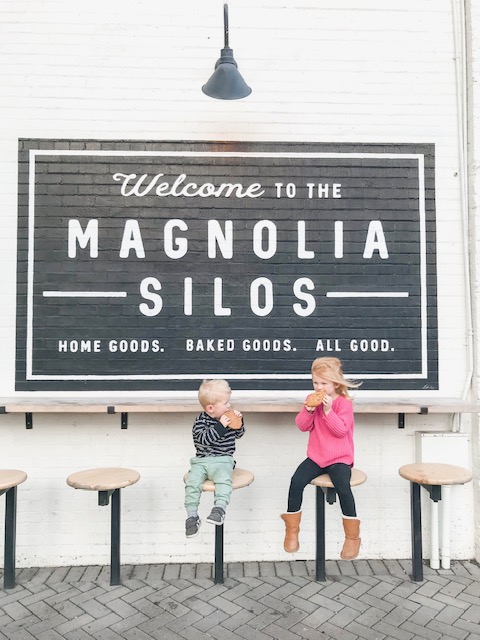 i was instantly drawn to the large open lawn space and outdoor games. my children began running around, laughing, kicking balls and playing life-sized jenga and cornhole.
we took a stroll around the grass and were greeted by a handful of fabulous food trucks.
the alabama sweet tea is a must try.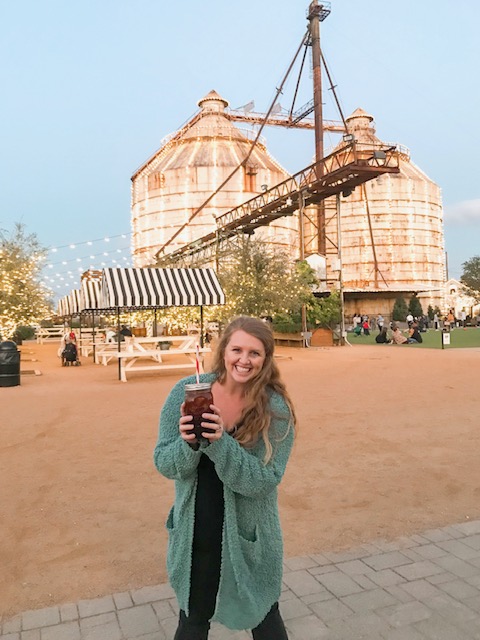 on the west side of the property, there is an open invitation to take a seat and stay a while at one of the many intimate picnic tables. the property also includes a quaint little garden, home to magnolia seed & supply.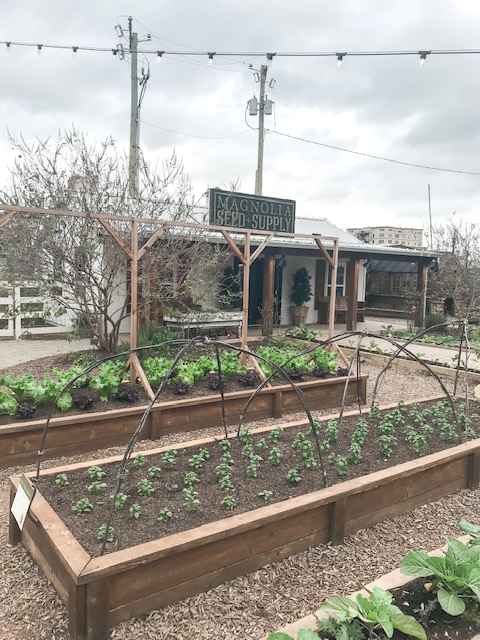 there really is something for everyone. food, shopping, games and relaxing with friends and family.
for lunch, we were fortunate to have a seat at magnolia table. i don't think i've ever been more excited to sit at a table and the food exceeded all of my expectations.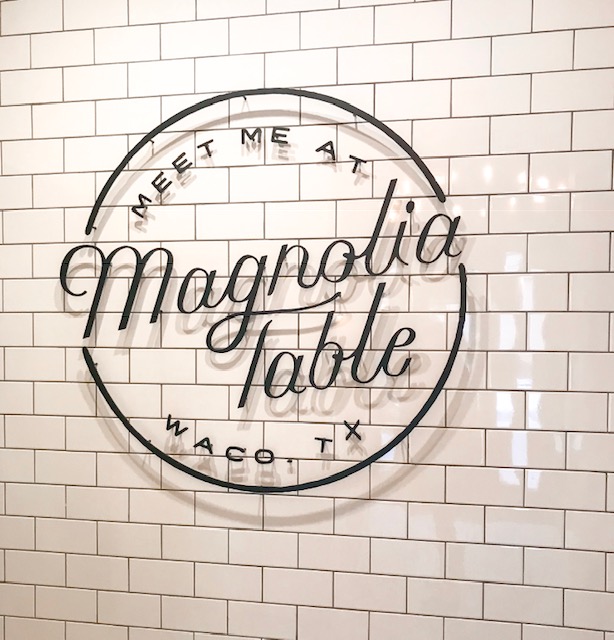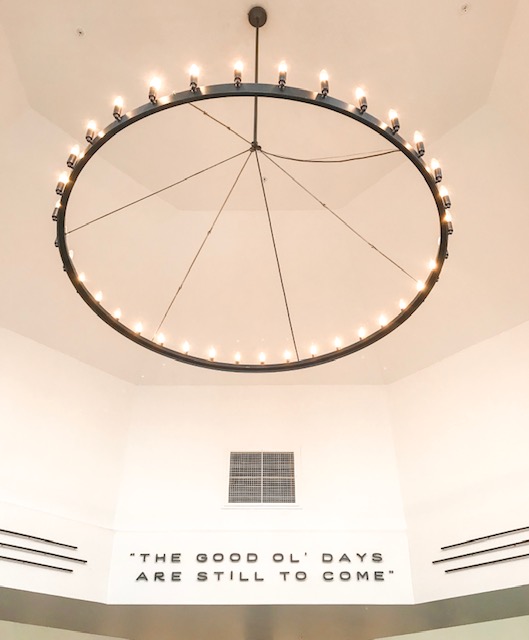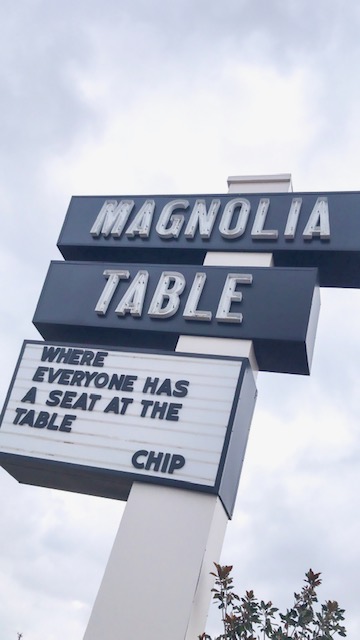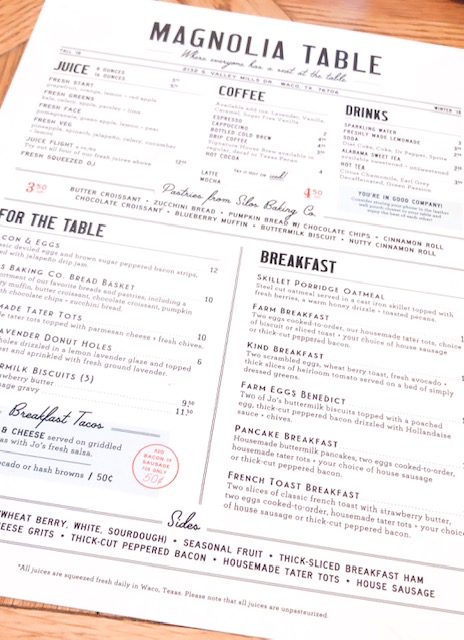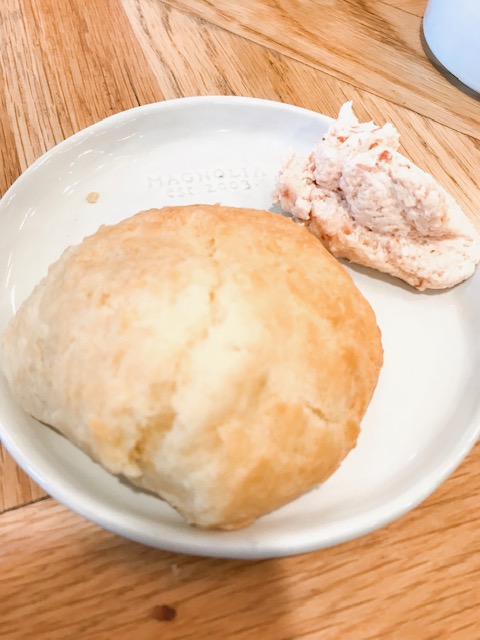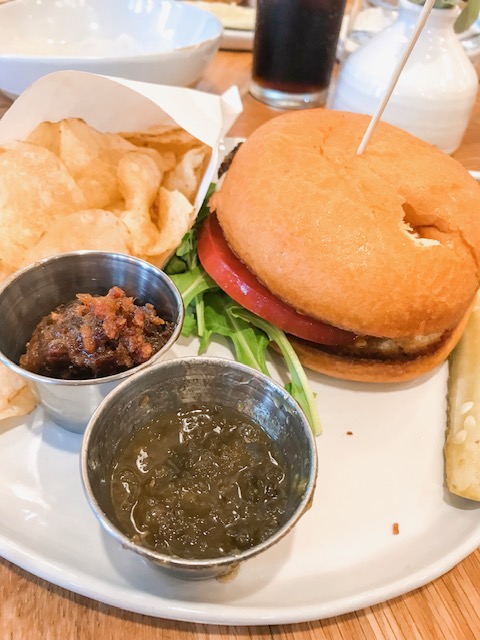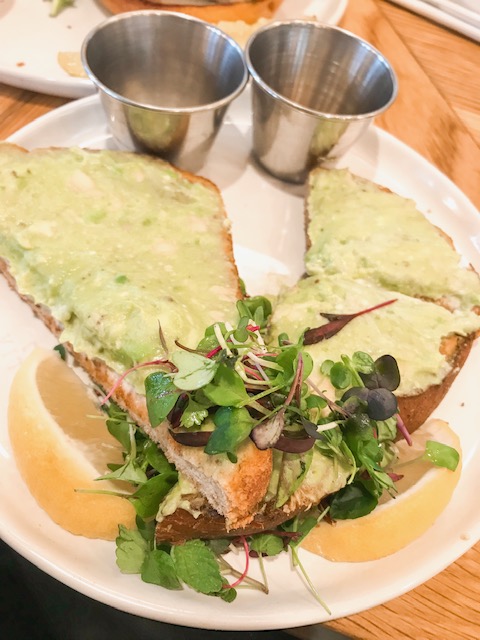 travel tip: magnolia table closes at 3pm. be sure to stop by early to get yourself on the list since they do not accept reservations. youre name will be added to a list, they will tell you a wait time, and you'll get a text message when you table is ready.
we arrived about 11am and the wait was one hour. it was closer to an hour and a half before our text came through but we were seated and served quickly.
our waitress was the sweetest texan girl ever, friendly, patient and kind to make suggestions and answer all of our foodie questions.
we started with some delicious lemon lavender donut holes, jo's buttermilk biscuits with strawberry butter and some avocado toast. everything made my mouth water.
for the main course, i ordered the gaines brothers burgers, jess ordered the chicken salad sandwich and patty jo ordered aunt mikey's turkey sandwich. everything was delicious but my favorite was by far the gaines brothers burger. a perfectly cooked patty on a toasted brioche bun topped with havarti, arugala, and the most delicious bacon onion jam and jalapeno drip jam (get both jams!)
my kiddos shared emmies grilled cheese plate off of the kiddos menu and it was just as delicious.
after we filled our bellies we checked out jo's shop on bosque blvd. joanna's first little store is now the magnolia warehouse shop and is filled with a handful of discounted trinkets.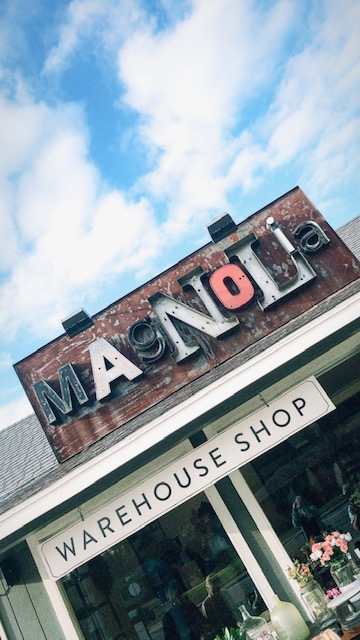 travel tip: the magnolia warehouse is a small space so don't expect to spend more than maybe 10 or 15 minutes there but it is definitely worth the stop to see where it all started for jo.
we ended our day in waco back at the silo's. the line at the bakery had cut down a little so we made our way in for some tasty pastries.
the line was fairly long pretty much the whole day but it actually moves very quickly. the staff is great to hand out menus that you can circle what you want, which makes the ordering part go fast.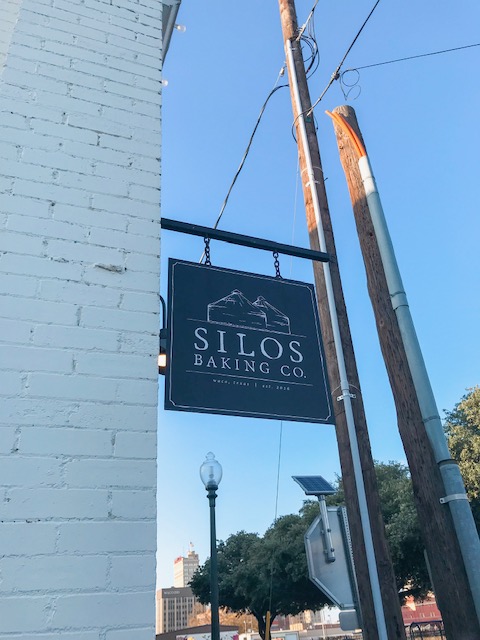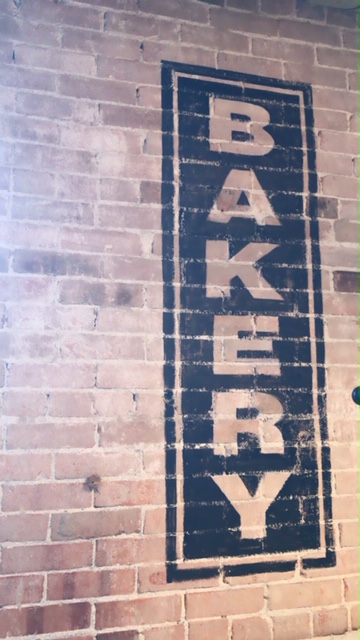 travel tip: make the bakery stop first when you get to the silo's because chances are they will sell out of some of their top favorite treats, like their cinnamon rolls, which is what happened while we were there.
again i thought all of the pastries were delicious.
we walked around the store and there was so much to look at. candles, spatulas, cake plates, home décor, and tons of seasonal pieces that were all calling my name to bring back to utah. unfortunately, i wasn't able to fill my suitcase with all of the fabulous things that caught my eye, however, i did pick out a few special items to remember the trip by.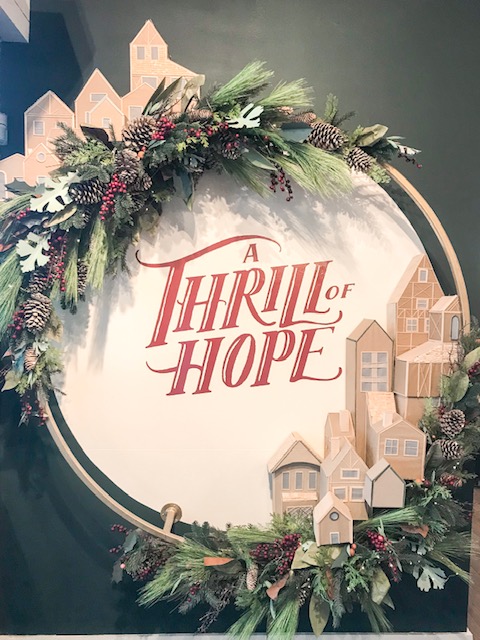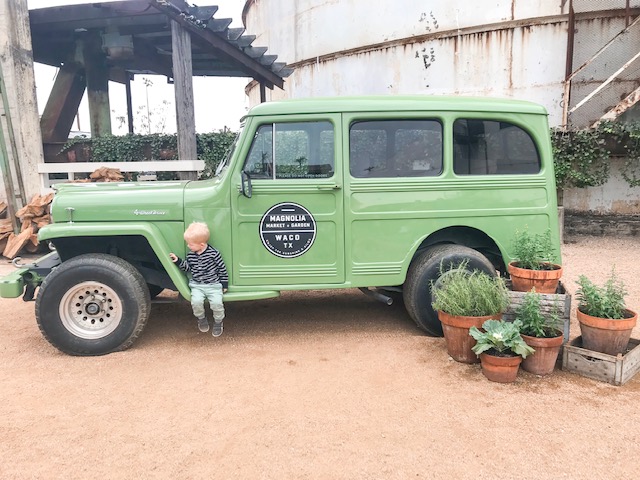 i loved visiting during the holidays. a very kind young man who worked at the store explained how joanna is very involved with transforming the store each season and how she is extremely hands on to help make her vision come to life. it was very apparent as we walked around the store and noticed every tiny little detail of the décor and holiday collection.
as the sun began to set in texas our day at magnolia came to an end. i stood on the lawn, watching my children dance and play and whispered to my aunt that it really was magical.
i don't know how to explain it, but it truly was a spiritual experience for me.
being in this intentional and beautiful space that was created by someone i admire so much, brought me so much joy. this community that the gaines have cultivated where people can come and escape the commotion of the world, sit and be with friends and family is what the world needs more of.
my day at magnolia was everything i imagined it to be and i cannot wait for my next visit in which i'll be bringing a much bigger suitcase.